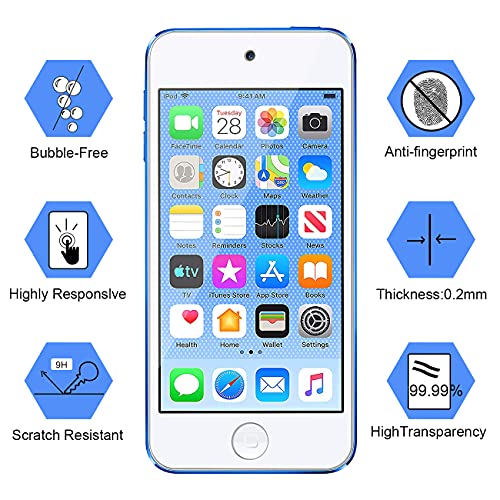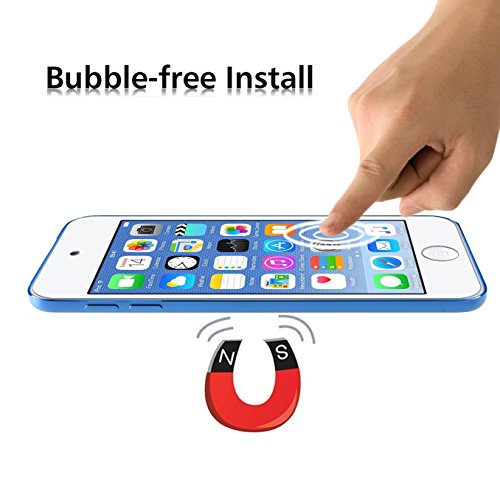 [4 Pack] iVoler [Tempered Glass] Screen Protector Compatible iPod Touch 7G 2019 6G 5G (7th 6th 5th Generation), 0.2mm Ultra Thin 9H Hardness 2.5D Round Edge,Anti Scratch and Bubble-Free
Brand: ivoler
Features:
IMPORTANT NOTE: Advanced fit and perfect size for iPod Touch 6 5 6th 7th Generation & 5 5th generation.Amazing look and feel! Real glass makes for real difference in quality and touch sensitivity!
Industry-leading Japanese special processed glass to ensure maximum protection, TRUE HD 99.9% transparency maintain the original quality of your Phone's viewing experience. Easy installation .
Precise laser cut tempered glass (Hardness: 9H), 0.20mm, 2.5D Rounded Edges. High-response, High-transparency, and High transparency, Featuring maximum protection from high impact drops, scratches, scrapes, bumps. Scratch resistant, Shatterproof, Perfect Clarity and Touchscreen Functionality / No Rainbow Screen / Bubble-free.
iVoler Glass features an Oleophobic Coating, Hydrophobic and Electro Coated Surface that prevent particles, sweat. Anti-Shatter Film: If broken, tempered glass breaks into small pieces that are not sharp, making it safer than other glass products.
What You Get: 4 Pack iVoler Tempered Glass Screen Protector, 4x Wipe (DRY&WET), 4xDust-absorber.
Details: [4 Pack] iVoler PREMIUM TEMPERED GLASS SCREEN PROTECTORS Made with transparent glass that has undergone specialized tempered-glass treatment, our premium glass screen protector is made to protect your phone's screen from scratches and other external damages. PRESERVE YOUR PHONE INVESTMENT AND MAXIMIZE RESALE VALUE. Real Tempered Glass Made of real tempered glass that protects the original screen from shattering, with an industry leading hardness of 9H, just below diamond with a hardness of 10H. Oleophobic Coating Prevents excessive fingerprinting and oil stains, and makes the film easy to clean. Silicone Bubble-free Adhesive Adheres to the phone's screen without any gaps or bubbles, leaving the touch sensitivity unaffected. Anti-shatter Film Made to protect you and your phone - if it does break, the tempered glass breaks into small pieces that stick together, making it safer for users. Kit Contains: 4x GLASS Screen Protectors 2x Two Alcohol Wipes (DRY and WET) 2x Dust-absorber Installation Use Guide a.The screen protector does not match your screen size. b. There are unremovable bubbles during the installation. c. The screen protector suffer wear and tear during normal use (not including water damage or damage caused by abnormal use).
UPC: 766897421563
EAN: 0766897421563
Binding: Accessory
Item Condition: New