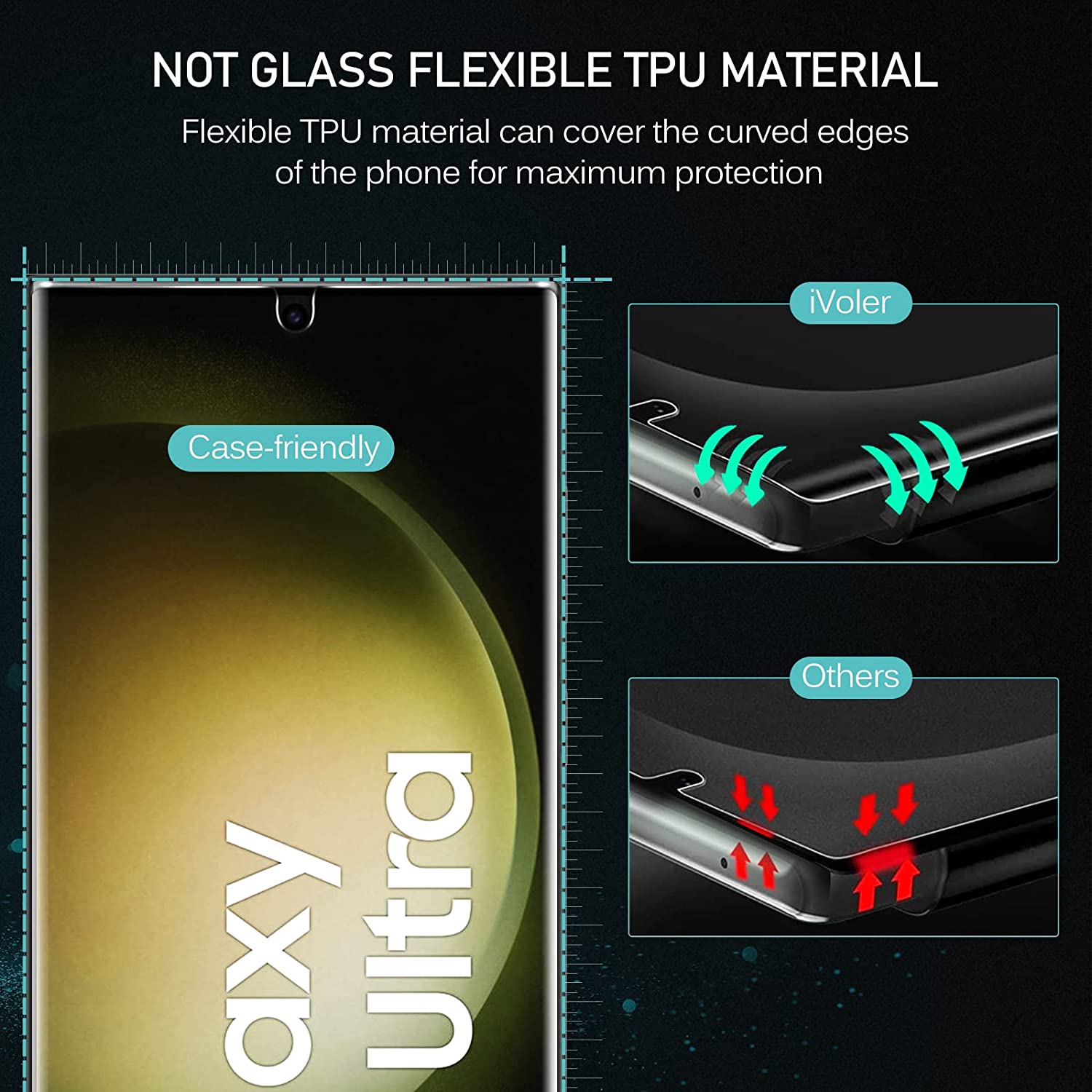 ivoler [2+1Pack] Screen Protector for Samsung Galaxy S23 Ultra 6.8" 5G
❤️Design for Samsung Galaxy S23 Ultra 5G, not for other Model Phones. Please check your phone model before purchasing.

❤️Compatible with Fingerprint, Face ID, S Pen: most of the products on the market have the defect of unresponsive fingerprint unlocking. iVoler uses the latest highly responsive touch technology with exclusive ultra-thin die-cut design, perfectly supports fingerprint reader and S Pen, unlock speed as fast as 0.01s, Makes you feel as real as a bare phone. Precisely cut for the Samsung S23 Ultra, this flexible protector does not interfere with the Face ID feature.

❤️ iVoler's exclusive material breaks through the warped edges of most TPU protective films on the market,providing edge-to-edge invisible protection for the entire Samsung Galaxy S23 Ultra 5G screen. Its protection ability is much stronger than other products on the market. Protection effect can reach 95% of the tempered glass. Robust daily protection!If there are small scratches and bubbles after installation, don't worry, it will recover automatically within 24h.

❤️Camera Protector & Case Friendly: iVoler camera protector made of Ultra-Thin Tempered Glass with Aluminum Edge effectively protect entire lens from drops, scratches, other accidents, not easy to fall off. Brings you the original of beauty to every photo and video.It is compatible with 99.99% cases, let you match your favorite casees.

❤️iVoler's 9-in-1 item including: [2ⅩFlexible Screen Protector] for Samsung Galaxy S23 Ultra 5G Released and [1 Pack Camera Lens Protector] [1ⅩInstall the Locator] [1ⅩNon-slip Mat] [2ⅩCleaning Kits] [1X Camera Lens Protector Removal Tool][1X Installation Guide]. And We will provide no-worry 24 months if you have any problem with our product, please don't hesitate to contact us. we provide 100% customer satisfaction.